Contact Us
We're here to help.
Want to hear more about Illinois?
Simply create a myIllini account. Be sure to complete your profile so we can communicate with you on a more personalized level!
Have questions?
We're here to help you with all your admissions-related questions. If you can't find an answer, contact our office.
Need to talk to us?
Then you might just want our contact information.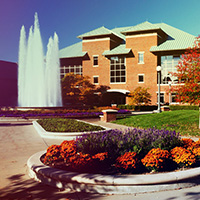 Office of Undergraduate Admissions
901 West Illinois Street
Urbana, IL 61801
217-333-0302
admissions@illinois.edu
Fax: 217-244-4614
Hours: 8:30 a.m.-5 p.m., Mon-Fri
Closed on all campus holidays
Campus Visits
217-333-0824
visits@illinois.edu
Chicago Satellite Office
Illini Center, 19th Floor
200 South Wacker Drive
Chicago, IL 60606
217-333-0313
Fax: 312-575-7818
Where should transcripts be sent?
Official transcripts can be sent electronically through the vendor your school works with. Otherwise, they can be mailed directly from your high school or college to the Office of Undergraduate Admissions at the address above.